The BIG SWIM 2021


THE 2021 BIG SWIM WILL TAKE PLACE AUGUST 8th, 2021 IN THE BRAS D'OR LAKE BADDECK, NS

.

There will be two loop options – 8kms & 12kms. The start and finish is on the beach of The Inverary Resort.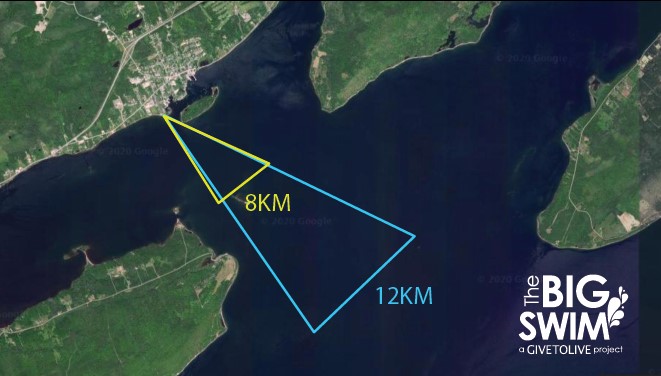 Please note: As always, all GIVETOLIVE events will be designed with safety in mind & adhere to Public Health rules of the day.
For more information, contact: bigswimdirector@givetolive.ca
What's included with your $200 registration fee:
Your choice of participation in the 8km OR 12km BIG SWIM routes
Event safety support in the form of multiple boats
A recommended training program
Access to a private Facebook forum to ask questions & share milestones
Event weekend t-shirt
BIG SWIM branded bathing cap for training
Event weekend bathing cap
Fundraising support
Fundraising:
Each swimmer must raise a minimum of $1,500 for either distance. Kayakers are encouraged to also fundraise. All funds go to support

Brigadoon Village.
Safety Requirements:
Every swimmer must be accompanied by a Paddle Canada Level 1 Certified kayaker*. It is the responsibility of the swimmer to acquire a qualified kayaker and without one, they will not be permitted to swim. Each kayaker is required to acquire the necessary safety gear, as recommended by Transport Canada. Without this safety gear, the kayaker will not be permitted to paddle leaving their swimmer without a paddler.
Learn more about GIVETOLIVE's incredible journey here
Email: BIGSWIMDirector@givetolive.ca with any questions.
*Donations of $20 and above will receive tax receipts.*
Thank you again for your interest in GIVETOLIVE! We look forward to having you join our 2021 community.
Donate:
Find a Participant or Team: